'Diva' born 25th December 07, sister to 'Caspar'
Well she got a name that suits her! diva by name. She came out running, she was supposed to be knocked out from the anaesthetic, but nobody told her that! The vet said build a wall with a blanket in that cage to keep her in until Fira comes around from the anaesthea, but nothing could keep Diva in - she went over it, under it and through it screaming; she wanted her Mum and nothing was gonna get in her way. Fira was responding to her even thought still affected by the anaesthestic, tongue lolling, she was trying to find her calling baby. What Diva wants she has a knack of aquiring, she's a bright full-on girl and as cute as a button.
She does not appear too bothered by food, except at lunchtime, this is one meal she doesn't miss, even though mostly its served 'al fresco' she manages to find enough time in her busy social schedule to fit it in. From the very start she was a busy girl, so smart and quick to learn she reminds me of Solar the Borzoi, with this sort you have to be one step ahead or they'll run riot.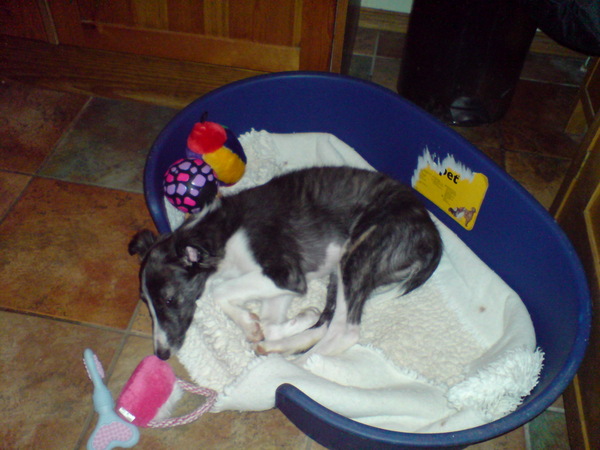 Diva moved to live with her new family on Thursday 20th March. Now an Essex Girl (the pink handbag gives it away) owned in partnership, we hope one day, she'll be as capable a Mum as Fira, but there is a lot of living and learning to do before that day comes. She has a marvelous loving home, with adoring humans who are well used to her Diva-ish type of ways. She has been making a great impression on all those she meets, she is very outgoing and loves meeting people, but the regular walk, takes just a little longer each time as she remembers which neighbours have made her aquaintance and tries to re-visit them on her outings.
Yipee I'm an Essex Girl now!
I think we might have a 'squatter problem'