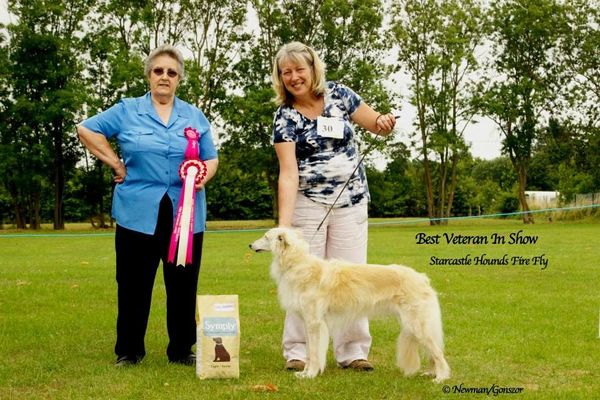 Starcastle Hounds Fire Fly - 'Fira' was bred by Sussi Stjernborg in Sweden, originally imported in partnership, she is the first Silken Windhound to enter the UK, through the pet passport scheme in Feburary 05.

She is a sweet delightful character, she has the typical Silken quizzical, fun loving nature that is so appealing, she uses her front feet to add expression and to the annoyance of the 'Old Man - Thor' using them to bounce of him in their daily galloping session. Other-than-that she is so well behaved and realiable even when hunting that I trust her almost implicitly, she has rarely failed to return instantly when recalled. She has a strange little trick of what appears to be chewing gum, I was quite alarmed the first time I noticed her doing this (a chinking sound on her teeth) but have gotten use to it; she often brings small stones from the gravelled area outside into the house with her, the purpose is to roll them around in her mouth & chew on them like gum. There is an ongoing battle of seniority between her and the youngest Dachshund Jasmin, but Fira is so nice she rarely reacts to Jas's teasing over who will eat the dinner, she cleverly bides her time until the moment I am between Jasmin and the bowl, then Fira cleverly pounces on the bowl without a word. Every evening she likes to settle down on the sofa beside me for 'her time' she demands this is the time each day, no matter what, she gets her attention time and has her cuddles, Dachshunds not with-standing & this is about the only time she will tell Jasmin off will a gentle rolling growl. Her other trick is to wait for the alarm clock to go off, then she moves upstairs to the landing and waits outside the bedroom door in order to be the first with her good morning greetings.


She produced the first partnership owned litter bred in the UK, which arrived in July 2006. We retain two of her beautiful daughters,  from that litter for the time being, along with Fira.
- see puppies, The girls grow, Cessie and Lily pages.

Saturday 14 April 07 - Fira attended her first ever show and impressed the judge so much that she took not only her class but  also the Best in Show award.

But not just in the showring, Fira is most impressive on the Coursing Field; taking 2nd place overall in Leek 2009 for The Beauty and Performance Award. And in Oval Track where she freequently races with The Brands Hatch Afghans she is one of the faster dogs, and certainly the fastest Silken in the UK at present regularly performing 260m in 22 seconds.
Sadly just after her 14th Birthday Fira became very ill in March 2018, she weakened so quickly we could not let her suffering continue and had to let her go. - Thank you Fira without you there would be no Silkens in the U.K.
Coursing in Leek N/L 2009